News & Events
News & Events-Archiv 2023
Vertrauen ist ein wesentliches Element am Arbeitsplatz und hat zentrale Auswirkungen auf Gruppen und Organisationen. Aus diesem Grund ist das Konzept des Vertrauens von großer Bedeutung, sowohl in der Forschung als auch für die Praxis. Am 10. Juli 2023 führte Prof. Kurt Dirks von der University of Washington in St. Louis im Rahmen eines Vortrags an der Goethe Universität die Zuhörenden in den spannenden Bereich des "Vertrauens am Arbeitsplatz" ein. Kurt Dirks forscht seit vielen Jahren zu den Einflussfaktoren, Grenzen und Folgen von Vertrauen in Organisationen. In seinem Vortrag fasste er die Erkenntnisse aus einem Vierteljahrhundert der Forschung zusammen und zeigte zum Beispiel, dass Vertrauen zwar ein Risiko birgt, aber viele positive Konsequenzen nach sich zieht, wie beispielsweise bessere Leistung, mehr Engagement und geringere Absichten zu kündigen. Insbesondere ging Dirks auf seine neueste Forschung zu kollektivem Vertrauen ein, also die Bereitschaft der Mitarbeitenden, den Personen in einer Organisation insgesamt zu vertrauen. Dabei wurden auch offene Punkte deutlich. Zum Beispiel ist noch nicht ganz klar, wie man solches allgemeine Vertrauen am besten messen kann. In der Diskussion zeigte sich Professor Dirks dabei offen für Impulse des Publikums, auch aus Soziologie und Wirtschaftswissenschaften.
Im Anschluss an den Vortrag konnten die Zuhörenden bei einem geselligen Get-to-gether dem Vortragenden noch Fragen stellen und es fand ein reger Austausch statt.
Das Event wurde vom Center for Leadership and Behavior in Organizations (CLBO) organisiert und von der Karl Schlecht Stiftung gesponsert.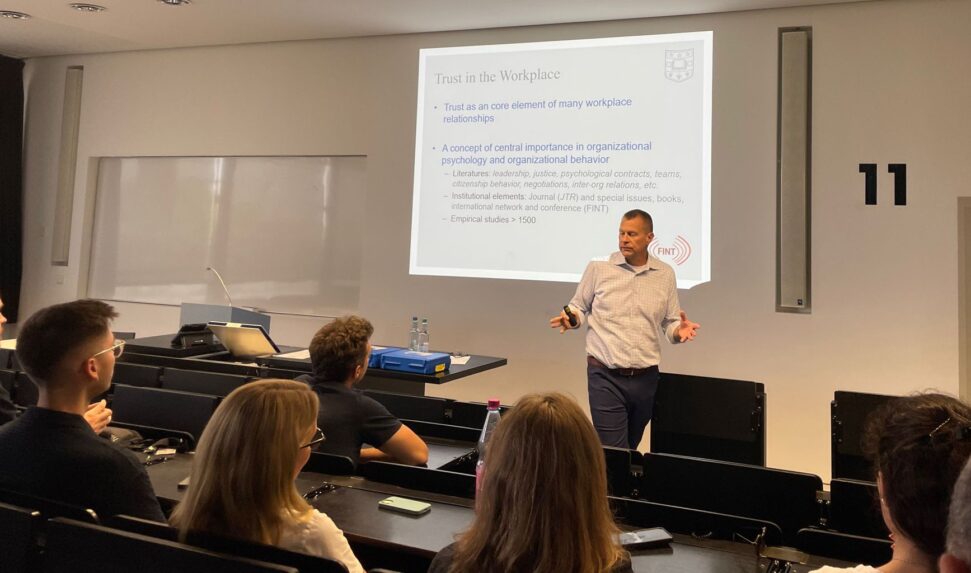 On July 6 and 7, 2023 the CLBO hosted the 4th Annual Meeting of the Global Leadership Centres Roundtable (GLCR) at Goethe University Frankfurt. The GLCR comprises a network of leadership centres with the common aim to foster interaction and exchange on leadership research in organizations and society. This year, participants came from (besides the CLBO) the Bauer Leadership Center at Washington University St. Louis, In the Lead at Groningen University, the Crown Prince Frederik Center for Public Leadership at Aarhus University and the Leiden Leadership Centre at the University of Leiden.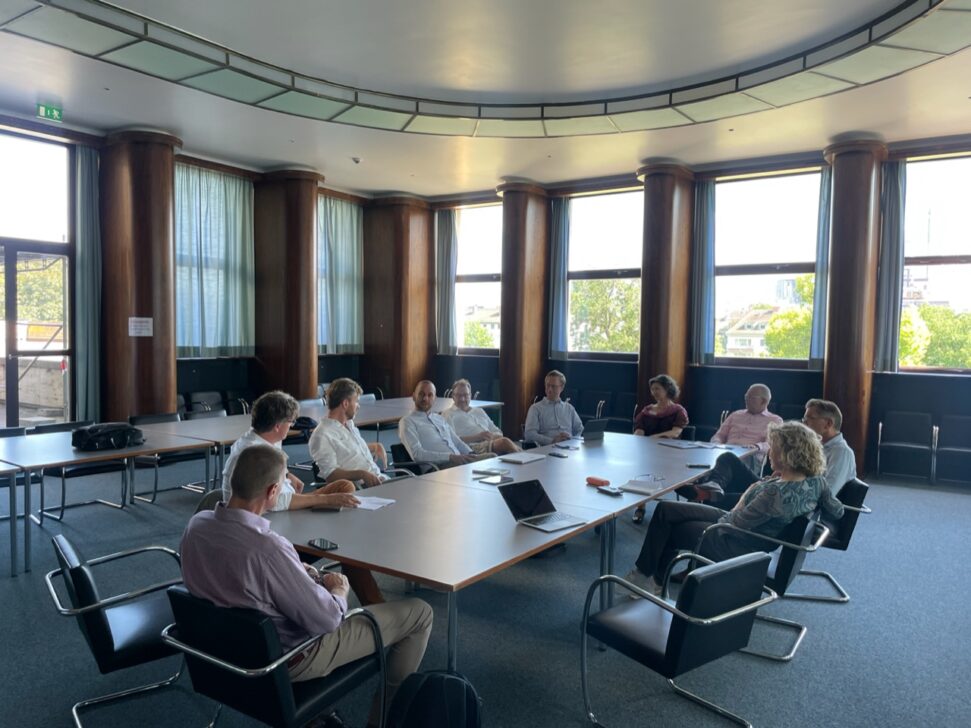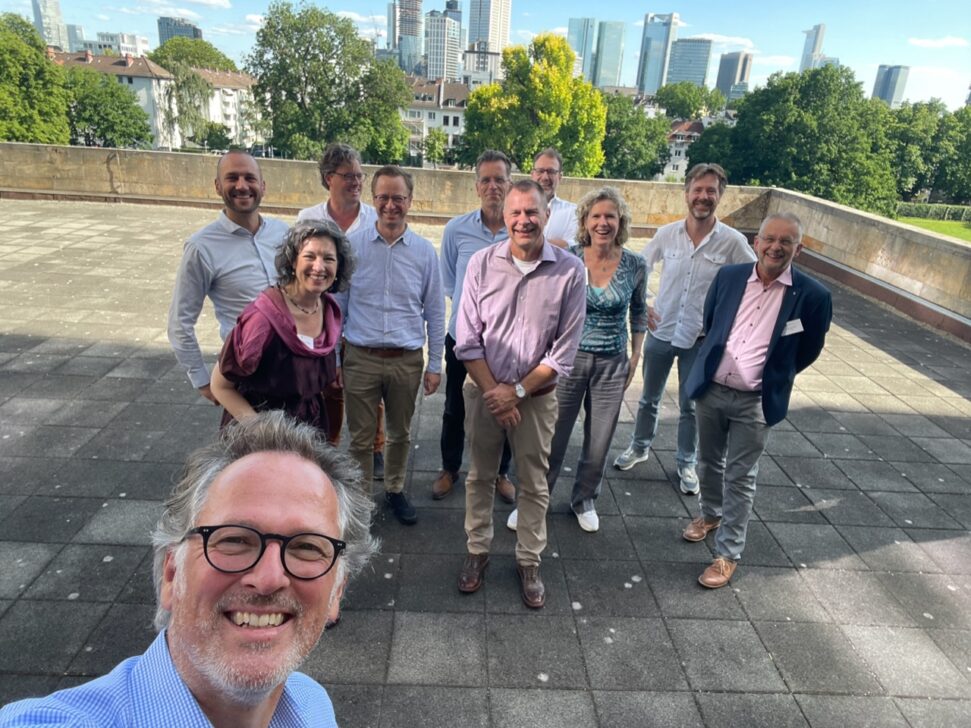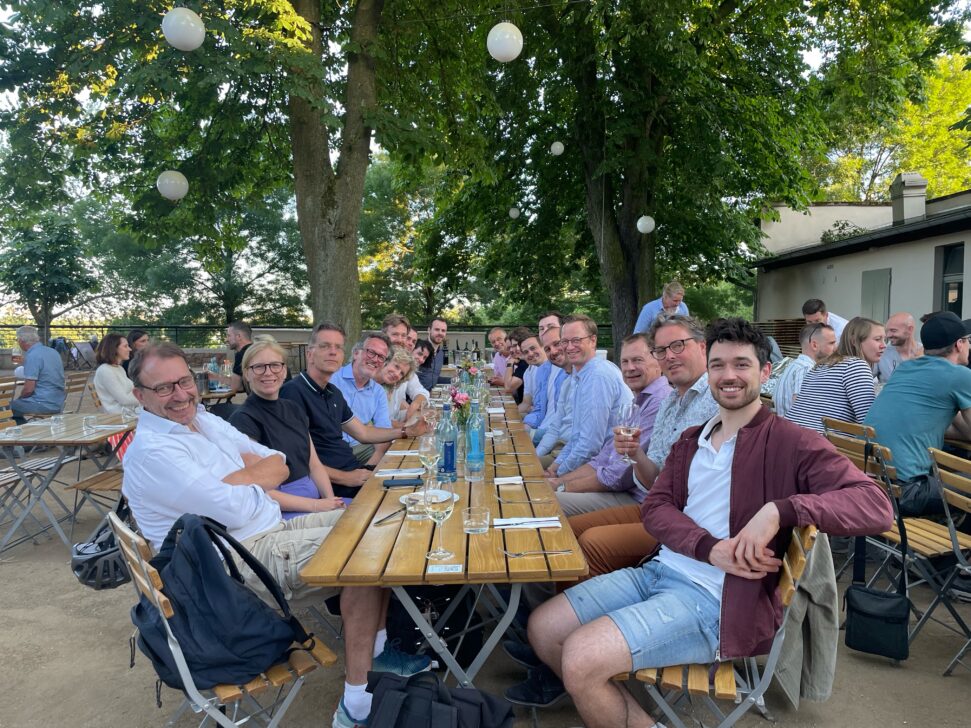 Link
Filed in Uncategorized
Einsamkeit ist tödlich - Die gute Nachricht lautet: Wir sind nicht hilflos, sondern können etwas dagegen tun. Welche Erkenntnisse die Forschung liefert und was gegen Einsamkeit hilft, erläutert Prof. Dr. Rolf van Dick in einem Beitrag in der Frankfurter Allgemeine Zeitung. Den Artikel finden Sie hier.
Link
Filed in Uncategorized
The concept of trust has emerged as a core concept in research in organizational behavior, with important implications for groups and organizations. Prof. Kurt Dirks will summarize the key questions and insights from a quarter-century of research. While considering directions for future research, he will discuss several new studies.
Kurt Dirks is best known for his research on the determinants, barriers, and outcomes of trust within organizations and published several highly cited and award-winning articles on the topic. The research has been covered by popular press such as Business Week, Fortune, New York Times, and the Washington Post. Prior to his current roles, Kurt has served in several leadership positions at the Olin Business School, including Interim Dean, and at the university, including Vice Chancellor of International Affairs.
On July 10, 2023, Prof. Kurt T. Dirks will give a lecture at the Westend Campus. Further information can be found here.